Now that autumn is in full swing and people in many areas are swapping their warm-weather wardrobes for sweaters and coats, it's a good time to talk about closets. Closets are one of the main storage areas in our homes that we struggle to keep organized, with varying degrees of success.  If you're faced with getting your fall and winter clothes organized, read the articles below to see what NAPO professional organizers advise for regaining and maintaining order in your closets.
The Case for Closet Rotation: Five Questions for Organizing Pro Liz Jenkins
Closet clutter: How having fewer, better-quality clothes can bring style and happiness
Guy fashion 911: A manly guide to cleaning out your closet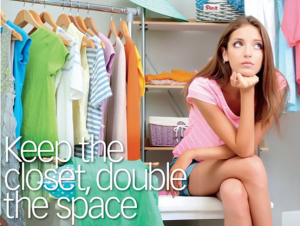 Keep the closet, double the space
Have any tips on keeping your closets under control? Don't keep them to yourself–share them in the comments!