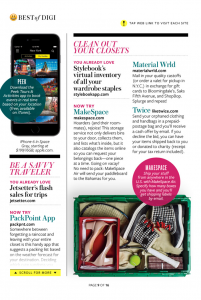 A heap of second-string clothing is usually the by-product of cleaning out your closet. Most people default to donating the items to charity, but what if you just want to store them elsewhere or want to sell them for some extra cash?  The November issue of InStyle magazine's #BestofDIGI feature lists four cool online tools to help you manage clothing that isn't in your regular rotation. Check 'em out!
With all of these fabulous convenient options, managing your wardrobe should be a snap!
Are there any other cool tools that you use to keep your closets under control?  Sound off in the comments!