Sponsored Post
All gamers know a very familiar cycle when it comes to their video games…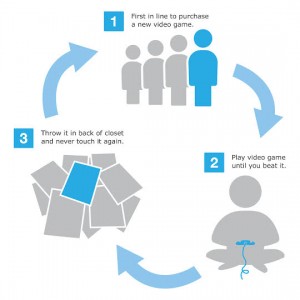 Here at Decluttr, we have a different recommendation for the fate of your conquered video game: trade it in for cash at Decluttr.com. That way, instead of throwing it in the back of your closet, you can use the cash you earn to put towards another game – or at the very least some celebratory pizza delivery.
Here are a few tips on selling your unwanted games:
Don't just trade them in. Sometimes trading your games for other games isn't always the best option. When you sell your games for cash, it gives you the freedom to shop around a little for what you truly want or use the cash for other things.
Time is money. We know that games lose their value over time so don't let it sit in your closet. Sell it when you're done with it to ensure top dollar.
Do your research. Sometimes the more rare the game, the more money you'll get for it.
Why leave your couch? You can resell your unwanted video games using Decluttr's iPhone or Android app. Not to mention, we'll pay for your shipping.
Need help getting organized? Visit NAPO's Professional Organizer Directory to search for professional organizers in your area.